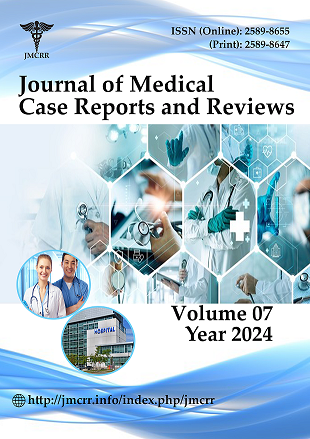 ISSN:  2589-8655 (Electronic)  |  2589-8647 (Print)   |  2589-8647 (Linking)
An international, peer-reviewed, open access, online journal publishing original case reports  and Reviews from all medical specialties. Submissions should not normally exceed 8,000 words or 10 published pages including figures, diagrams and references.
The journal follow the principles of the Committee on Publication Ethics (COPE).
NLM Title Abbreviation: J Med Case Rep Rev

NLM ID: 101775782 [Serial]
CrossRef: DOI (Old : 10.15520) (New: )
In: publons
In: ICMJE (Journals follow the Recommendations for the Conduct, Reporting, Editing and Publication of Scholarly Work in Medical Journals)
In: Google Scholar
We publish innovative original research papers, review articles, case reports and short communications dealing with all the medical specialties like Anatomy, Physiology, Biochemistry, Pharmacology, Pathology, Forensic medicine, Microbiology, Community Medicine, Ophthalmology, Otorhinolaryngology, Internal Medicine, General Surgery, Paediatrics, Obstetrics and Gynecology, Orthopedics, Psychiatry, Radiology, Pulmonary Medicine, Dermatology and Venereal diseases, Infectious Diseases, Anaesthesia, Cardiology, Diabetes, Cancer research, Endocrinology, Urology, Neurosurgery, Geriatric Medicine, Gastroenterology, Neurology, Nephrology, Dentistry and Medical education.